Gregory P. Klich '84
Gregory P. Klich '84 grew up in Newport News, VA where he graduated from Menchville High School prior to attending Christopher Newport. Gregg was a proud member of Sigma Pi, served on The Captain's Log, and graduated in 1984 with a degree in governmental administration. While a student, Gregg was hired into his first position with Busch Gardens where he would spend the next 25 years. In 1990, he became the Vice President of Park Operations and led the park through a dynamic period of growth and expansion.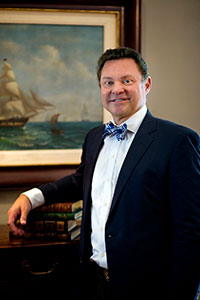 Upon retirement, Gregg found his next life path as a real estate developer and investor. Properties acquired throughout college led to his continued success in new construction, home renovation, affordable housing, and residential and commercial real estate. The housing of the homeless and veteran communities have remained a priority and passion for Gregg.
Over the years, Gregg has been honored by the College of Social Science, has received the University's Distinguished Alumnus Award, and was recognized as one of the Top 50 Alumni at the University's 50th Anniversary Gala. Gregg has also endowed the Gregory Klich Academic Achievement Award, presented at commencement to the graduate or graduates with the highest grade-point average who also meet other qualifications. Additionally, prior to CNU's first football season, Gregg funded and helped create the University mascot, Captain Chris, and has been a major supporter of the Ferguson Center for the Arts. Gregg chose to make his home and raise his daughter, Hannah, on the Peninsula – close to family, lifetime friends, and Christopher Newport University.
A proud Captain for Life, Gregory P. Klich continues to serve his alma mater with distinction - we celebrate his generosity, commitment, and passion.

It is fitting that the Klich Alumni House is the first building on campus to bear the name of an alumnus of Christopher Newport.