Walker's Green
Located adjacent to Shoe Lane leading up to the Gregory P. Klich Alumni House, Christopher Newport memorializes the contributions and legacy of local leader and former member of the Board of Visitors William R. Walker Jr. with a historic marker in Walker's honor. The historic marker designates the expanse of beautiful lawn as "Walker's Green" and honors Walker's life and accomplishments. The marker is located on the same address and site where his house once stood at 72 Shoe Lane.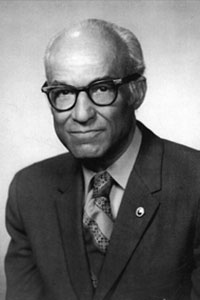 A Newport News native, Walker served the community and the Virginia Peninsula in many ways. After graduating magna cum laude from Howard University he returned to his alma mater of Huntington High School and taught mathematics and chemistry. He later served as the community manager of Aberdeen Gardens, one of the first federal housing community projects in America. After World War II, he established real estate and insurance businesses in the area. He also served several terms as president of the Newport News Chapter of the NAACP.
Initially opposed to the relocation of Christopher Newport College into the historically black neighborhood, Walker came to see the value of Christopher Newport's contributions to the community, became its champion and served three terms on the Board of Visitors. He died in 2004 at the age of 92.
At the historical marker dedication ceremony on September 20, 2019, Walker's son, former U.S. Ambassador Dr. Howard K. Walker noted "Like its appointments of local citizens like my father to its Board of Visitors, Walker's Green symbolizes to me Christopher Newport's recognition and public declaration that the Virginia Peninsula community that is serves is plural in its makeup, a rainbow of individuals who belong to a variety of groups, sometimes with separate identities and interests, and sometimes with shared and overlapping ones. May that…forever be part of this university's vision and its mission."
Read our coverage of the dedication ceremony.